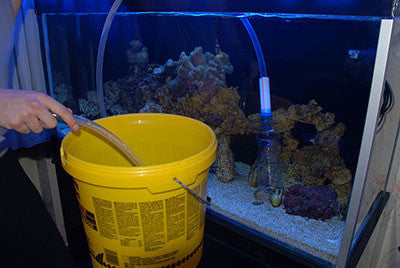 The 30-Day Cycling Process
The importance of the thirty day cycling process cannot be understated; this is a vital part of establishing the ecosystem of each individual aquarium. The exact processes which are occurring during this cycle, however, are often not well explained, or else they may be a little too well explained and no one without a degree in organic chemistry can understand a word that is being spoken.
If you are using fish to stimulate the cycling process take a great deal of care. While on the first day there is likely to be no ammonia in the tank, by the end of the third day these levels will have reached near toxicity. It is important to carefully monitor the fish during this crucial state; it may be even better to use an artificial source of ammonia to trigger this process. This will allow you to establish the proper balance in the tank without placing your aquatic friends at risk. While ammonia levels are beginning to rise first stage bacteria are beginning to grow.
By the fifth day these first stage bacteria will have begun to metabolize the ammonia into nitrite. This process will be well established by the end of the first week. At the end of the second week ammonia levels will be completely safe for the fish and nitrites will be at their peak. From here until approximately day 27 the second stage bacteria will be working to begin metabolizing the nitrite to nitrate. By day 30 ammonia and nitrite levels should be all but non-existent as nitrate levels reach their peak and the bacterium are well able to handle maintaining the chemical composition of the water.
Cycling your Salt Water Aquarium
This is an example of minimizing Mother Nature's perfect filtration system in order to provide your fish with the perfect habitat. Hopefully you have chosen to artificially stimulate the cycling process so that it is well established prior to inserting your fish. If you have not it is very important that you keep a very close eye on them while the tank is undergoing its cycling process. The spikes in ammonia and nitrite levels can be severely harmful to fish if they are exposed to it for too great a period of time, and they will likely begin to show signs of distress during these periods of the cycling process. If this becomes severe their conditions can be aided by changing a portion of the water in order to dilute the concentration of these products.